To: Interested Parties

From: Paul Shumaker, General Consultant at the Pat McCrory Committee

Date: March 9th, 2022

Subject: MEMO: A New, Defining Contrast In North Carolina's Pivotal US Senate Race

A new, unanticipated issue set – Russia's attack on Ukraine – is overwhelming voters with wall-to-wall coverage and far-reaching impacts. The US Senate race in North Carolina is emerging at the forefront of the domestic political implications of this war, with Ted Budd's serious vulnerabilities on the issue coming to light in a new television ad airing statewide. After a bombshell report detailing Budd's "Friendly Towards Russia" voting record and Budd praising Putin, calling him "very intelligent," the Pat McCrory Committee today released their first television ad, contrasting McCrory's record of standing his ground with Budd's history of pro-Russia votes and statements.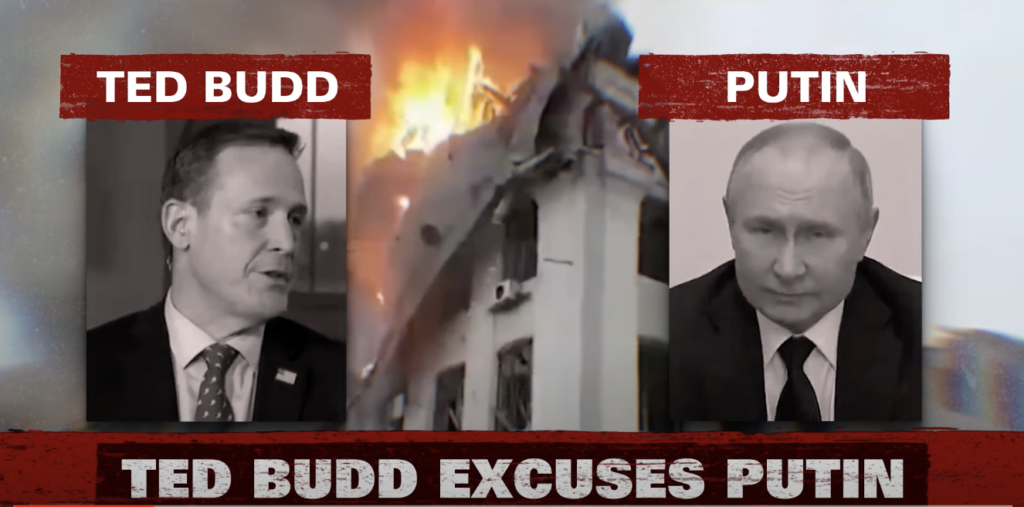 Ted Budd's pro-Russia voting record and public statements are not only deeply at odds with North Carolina General Election voters but also core-based GOP primary voters. The ad shows a stark difference between a candidate who can win a tough General Election in North Carolina, Pat McCrory, and a candidate, Ted Budd, who will see his support vanish from both Republicans and Independents with whom this issue will resonate.

Meanwhile, McCrory has a strong record of standing his ground and has repeatedly called for corporations to boycott Russia, just as McCrory stood his ground when he was Governor of North Carolina.

After months of unanswered attack ads from a DC outside group, totaling millions of dollars in negative advertising against McCrory, this ad is the first time the McCrory campaign will answer on television.

Politico wrote about the ad this morning in a piece entitled Trump's man in North Carolina struggles in Senate primary, which analyzed the potential impact of this ad and other North Carolina political and electoral dynamics. It recognized that Budd is "struggling to gain traction, raising concerns among his powerful backers about his prospects in a race that is key to control of the Senate." The piece further remarked on Budd's lagging fundraising and trailing polls, even despite the millions in unanswered ads. It also noted new polling that showed that McCrory has maintained a strong lead across the board.

The hard-hitting ad, produced by nationally-leading Republican media firm OnMessage, will air statewide for North Carolina Republican voters, in an initial media buy seeking to quickly position this issue at the forefront of the race.

With 14 candidates on the Republican ballot, McCrory is the only candidate suited to win the primary election outright, especially given that only a 30% threshold is needed to avoid a runoff election. Governor McCrory has consistently polled at or above that threshold while Ted Budd has failed to gain traction despite over 10 million dollars in DC special interest spending on his behalf.

With less than ten weeks to go before the May 17th primary, Governor McCrory is well-positioned given his statewide institutional identity. Of all the campaign issues and subsequent television ads I have seen that have a strong electoral impact in North Carolina Senate Primaries, the Budd-Putin issue is among the most potent. I expect it to steeply elevate McCrory above the fray while negatively defining Ted Budd, who still remains an unknown candidate to a majority of North Carolina Republicans.

North Carolina is no longer the traditional red state of the past. In 2020, North Carolina was decided by less than 100,000 votes after being the most expensive US Senate race in the nation. Georgia was at the time a sleeper race that no one was watching. If anyone thinks that North Carolina is a lock with any Republican nominee, they are wrong. There is a good chance that North Carolina will become the next Georgia to fall into Democratic hands.

In North Carolina's 2020 US Senate, my client, US Senator Thom Tillis, was able to win despite a GOP voter erosion trend of nearly 200,000 votes in the state's suburban/urban areas. While Washington DC insiders were writing off Tillis in late October, he was able to counter the trend due to the Cunningham scandal. In Georgia, that was not the case, and the Democrats are keenly aware that they can make this state the next Georgia by consolidating all resources behind one candidate in the primary field and hoping that Republicans nominate a rural-based candidate inconsistent with the ever-growing suburbs of the Charlotte and Raleigh metro regions.

North Carolina is the swingiest of all swing states and Ted Budd's sympathy for Russia and Putin is a position that Democrats will look to exploit with soft-Republican voters and Independents in the suburbs. With the new McCrory ad, this race has also quickly shaped up to be among the most pivotal in the nation in 2022. The only pathway to a Republican Majority in the US Senate is by Pat McCrory winning the nomination.